Imagine coming up with a detailed marketing budget, only to spend most of the money on digital strategies. Print marketing can be just as useful, but you need to find a way to use that with the funds you have left.
Print-on-demand is an excellent option if you want to use print marketing without much cash. From saving money to offering updates and flexibility, read on to learn about some advantages of on-demand printing.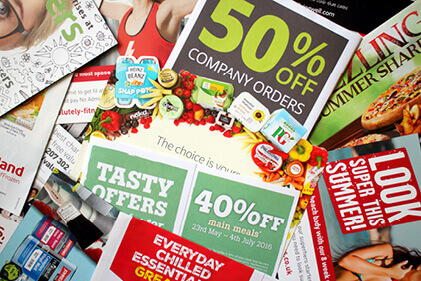 Creative Flexibility
One of the benefits of using print-on-demand companies is that it gives you flexibility. You can print a copy or two of a few different versions of marketing materials, for example.
Then, you can review the options to see which one came out the best. Sometimes, what looks good on a screen may not look as appealing when you print it on paper.
On the other hand, something that doesn't look great digitally may perform well in print. Having flexibility will allow you to choose the most successful design for your next marketing campaign without wasting a ton of prints.
Also, you can change your print-on-demand design at any time. If you find customers aren't resonating with your current print, you can update it to something better.
Ability to Personalize
Maybe you want to personalize some of the print-on-demand items with an employee's name. You can do that and change out the name based on the employee who will receive or distribute the prints.
On-demand printing also allows you to add photos or other custom details. This can be useful if you handle marketing for a real estate firm with multiple agents.
You can create brochures or other materials for each agent to share with their clients. That can be more personable than having people distribute more general flyers without any pictures or with the whole team.
Easy to Use
What is print-on-demand if not easy to use? Many print-on-demand companies have technology that makes it easy to place an order. That means anyone on your marketing team can order new prints.
You don't have to assign someone to be an expert on the POD system. And you don't have to rely on one person being in the office when you need to order more prints.
Instead, anyone can log into the proper portal to reorder existing designs or update and order new designs. The first order or two may be difficult since you're learning how the portal works, but it gets easier.
Faster Production
Using print-on-demand with company stores can also help speed up production. If you want to launch a new marketing campaign quickly, POD services don't have to spend as much time preparing the materials.
You can submit the designs, and the company can print the copies you need and send them to you right away. That will get you the materials you need in less time, so you can start marketing something sooner.
Traditional printing methods can take time to set up properly, which can delay the delivery of your items. If you want to use prints in your marketing strategy, POD is an excellent option.
No Minimums
Some printing services require that you order at least a specific number of copies or prints. However, you don't have that restriction with print-on-demand.
You can order one copy if you want to do a test run of a new design. If it works, you can then order as few as a couple of copies or as many as thousands of copies.
Online ordering makes it easy to select the number of prints you want. And you can vary the designs and do a few prints of each if you want to do A/B testing with this campaign.
Reduce Waste
The fact that you don't have any minimums means that you can reduce excess waste with print-on-demand. Of course, you may print more copies than necessary for your first marketing campaign.
However, you may learn how many copies you need when promoting a new product or service. In the future, that can help you determine how many copies of each design to order.
You'll be able to distribute all of the prints to your customers or to businesses in the area. You and your team won't have to throw away a big chunk of print materials before customers ever see them.
Of course, you can recycle extra materials, but not everyone has easy access to recycling. Reducing the production upfront can save your business and the environment.
More Affordable
POD services can also help you reduce the cost of printing. Since you don't have any order minimums, you can be sure to stick to your specific business budget.
Some larger companies have massive print and marketing budgets and can afford to pay certain minimums. However, startups and other small businesses may not have that much money.
Print-on-demand allows you to make the most of your existing print budget. While you can't take advantage of bulk discounts, you may not need them for a smaller marketing campaign.
You can put the rest of your print and marketing budget toward other things. Then, you can get better results from the various marketing strategies you implement.
Easy Updates
Smaller printing runs allow you to update prints more easily and can keep you from wasting older prints. Going back to the real estate example, maybe you want to use materials with the full team.
If an agent quits or you hire someone new, you'll want to distribute new brochures. You can easily do that with a new online order of prints.
Once you receive the order, you can start distributing the materials. You shouldn't have to toss too many (or any) old prints into the trash after a new design update.
Will You Use Print-On-Demand Services?
Print-on-demand is a useful tool to help you bring your print marketing materials to life. You don't have to order a set number of copies, so you can try a few designs to see what looks the best.
This also allows you to save money and update any designs that don't work well. That way, you can make the most of this marketing tactic.
Are you ready to place a print-on-demand order? Check out our commercial printing services to get started.