Featuring:
Ed Nowokunski - Founder

Scott Nowokunski - President

Linda Kirby - Executive Vice President

Hal Roth - HR Director and employee of 35+ years
A kiss with every order? Company cats hanging out in an empty office? That's a small part of the story – but Boingo's founding and growth is really about people of all backgrounds working together to get the job done.
Our Beginnings

Edward Nowokunski founded the company, then called Kopy Korners, Inc., in 1979. The organization started as a retail quick-copy shop – 8 locations throughout the Charlotte, NC, area providing copies and other printed materials – before consolidating to one central production facility. Why? Ed was looking to get out of corporate life and into a business where he could build relationships with customers over time.
"I was working as a sales manager and moved to Charlotte, NC, to open a branch office for the company I was with," Ed Nowokunski tells us. "I worked for seven years for that company and kept banging my head on the ceiling. Eventually I started to set up an advertising program of my own and the printing company I was using asked me to be on their board of directors - which I did. They were running a lousy business and went belly up." So, with a few bumps on top of his noggin, Ed bought out their equipment and started Kopy Korners.
The youngest of 13 and the only to attend college, Ed had a strong vision for where the business could go and what it could be. He was smart and tough and quick to make decisions. Ed expected people to share the vision and be willing to roll up their sleeves and work really hard. So it was only natural that he included his family in the business. His wife served as Executive Vice President and their youngest son, Scott Nowokunski, got involved as early as 12 by passing out flyers. After receiving his degree in Graphic Communications at Appalachian State, Scott returned four days after graduation as a full-time employee.
Over time, Scott climbed the ladder, and the team grew. The name changed from Kopy Korners to The Printing Office in 1994, and to Integraphx in 2004, before finally settling on the iconic orange bouncy ball of Boingo Graphics. Why orange? Scott explains, "It reflects the passion and energy of being an innovative company!"
Scott wasn't the only addition to the company. Linda Kirby joined the business around the same time, 33 years ago. While Scott focused on sales and marketing, Linda, who had a background in quality control management, took over streamlining the production operation. The two worked together, staying focused on their respective areas of expertise for many years before becoming partners in the business.
Present Day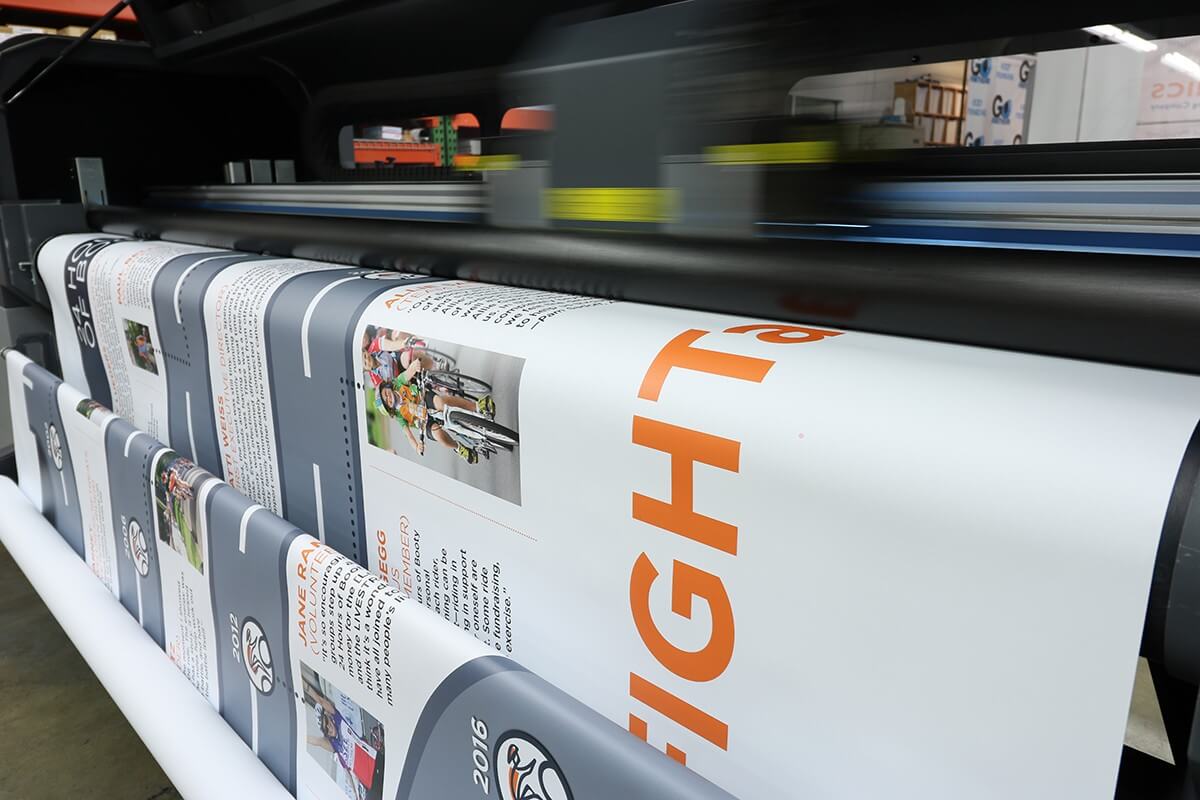 Scott Nowokunski now serves as President of the company, and, with Linda Kirby as Executive Vice President, the two hope to sell outside the geographic area. To accomplish this, they'll continue to invest in tech that will improve client experience and efficiency on the back end. But they haven't given up their roots, and the culture Ed created is certainly part of who Boingo Graphics is today.
"Our basic philosophy is to treat each other with respect, our customers with respect, and effectively insist on that same respect in return – by earning it!" Ed says. "We've fired a few customers because the respect wasn't there. And we probably have been fired by a few, I assume. Our mission statement is 'Reliability and Results … Simply, Accurately!'"
In addition to respect for teammates and customers, Boingo Graphics strives to hire top talent and let them flourish. Ed hired really strong people. He had an eye for talent and allowed for and encouraged growth. Rather than micromanaging, he really turned work over to others. He might check in every once in a while, but he rarely intervened. And Scott and Linda are following that same path now that Ed is retired.
"You can hire the most talented people and have them just do what they're told, and you won't grow," says Linda Kirby. "But if you hire talented people and let them lead, that's how you grow."
"Boingo's been a place with a lot of diversity and acceptance – people of all backgrounds and walks of life," says Hal Roth, Boingo's HR director. "That's a huge part of our culture, taking people as they are and working with them based on talents and skills. Then encouraging growth for those people."
Yes, the company has grown from a family-run operation of five staff to an organization of just under 50 and still growing, but one thing that hasn't changed over time is the ability to adapt … as evidenced by Boingo's newest family member. The company continues to grow both in manufacturing capacity as well as specific departments such as marketing services.
"We have not been static," Scott says. "We were willing to change as technology changed. We've been early adopters of new technology and wanted to make sure it was good stuff."
And good stuff it has been. From 1979 to now, it's been a long journey for the company and the staff – many of whom have been around practically since its inception. While Ed is happily enjoying retirement, he still swings by every once in a while to say hi.
As for the kiss? Boingo Graphics used to give away Hershey's Kisses with every order. And the cats? Well, we've been known to use various office spaces as a haven for stray cats from time to time. Even without the chocolate and the random feline rescue mission, Boingo Graphics continues to place a high value on its customers, its employees and its support of the community that has given it so much.