No better time to welcome a new member to the family than the holidays. Spirits are high. Hearts are open and arms are ready to embrace loved ones and newcomers alike. Hmm, but when the newcomer is a 15,900-pound monster – and we mean that in the most favorable way – those outstretched arms had better be ready …
In the weeks leading up to Thanksgiving, the team at Boingo Graphics flew into action to welcome their newest family member: the Canon VarioPRINT iX 3200 Sheet-Fed Inkjet Press. This "monster" brings the latest in commercial sheetfed inkjet printing to Boingo Graphics and is the only machine of its kind in North Carolina.
For print customers, it means faster turnaround with even greater cost efficiency. For Boingo Graphics, it means a throughput increase of two and a half times, making the VarioPRINT iX a key tool in the printer's commercial print and marketing offerings.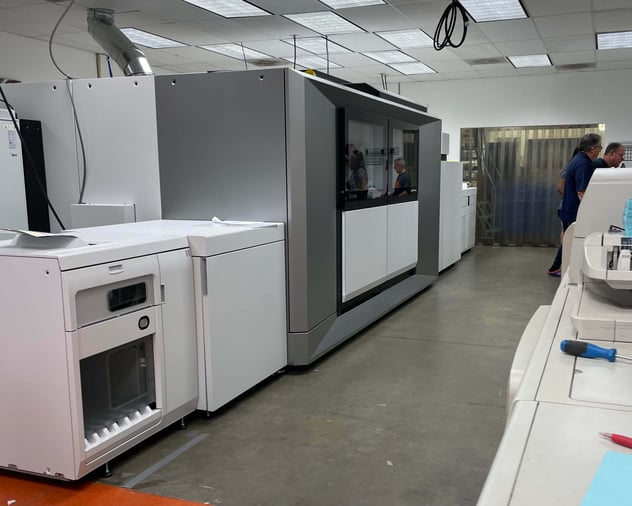 Quick Facts on This Monster
It's big. Like really big.
Weighs: 15,900 pounds
Measures: 33 feet long, 9 feet wide, 7 feet high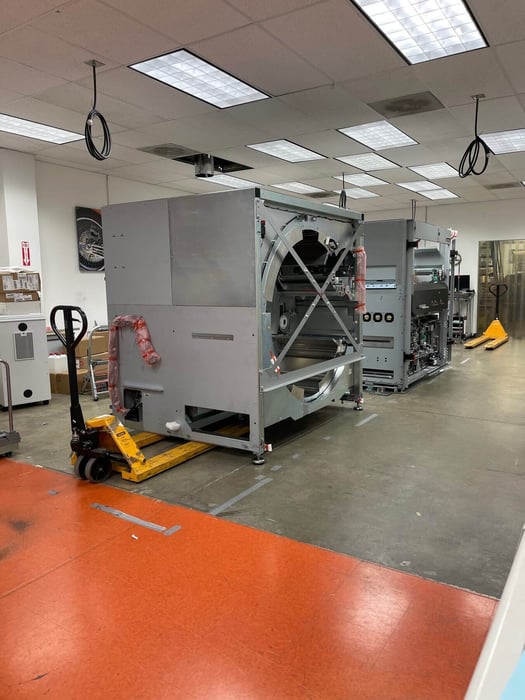 It took a village to get it into the building.
It came to Boingo Graphics' Charlotte office and warehouse via two 18-wheelers, with a crew of people to unload it. The printer was contained in 12 crates. Five engineers from Canon were on site to help assemble it. (We considered starting a joke about "how many engineers it takes to install a printer," but we're frankly intimidated by engineers so … just no.)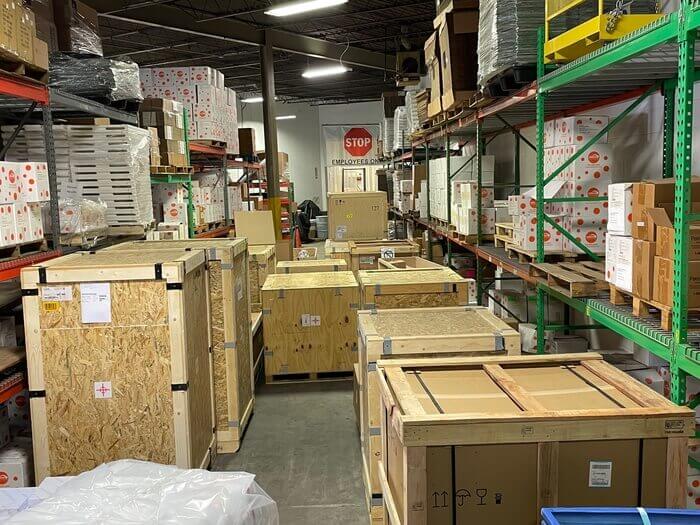 It's well-traveled.
The VarioPRINT iX arrived in the U.S. by boat from Europe. We haven't asked it about its journey yet, but we like to imagine it was a luxurious crossing with room service and top-notch entertainment.
It really is cool technology.
The VarioPRINT iX features iQuariusiX technology, focusing on four specific areas: ink innovation, drying technology, media transport and quality control.
Boingo Graphics has smart people, and some of them will run this thing.
Four print professionals have been trained to operate the press and three will be trained in prepress.
The Canon VarioPRINT iX 3200 Sheet-Fed Inkjet Press is kind of a big deal.
Canon will fly folks in to Charlotte from around the country to see how the press works. This is the only VarioPRINT iX in the state and one of few in the Southeast.
Handy Print Glossary
Production inkjet press – single-pass inkjet printer that uses fixed arrays of industrial-grade printheads that span the full width of the material being printed. All ink colors are laid down as the material feeds through the press at speeds of up to 600 ft. per minute for four-color pages and up to 1,000 ft. per minute for black-only pages.
Throughput – the total time required to print a given number of pages; a measurement combining the time it takes to transmit the data, have the printer create the image bitmap and print the pages.
Prepress – the activities that occur after a commercial printer receives an order and a corresponding graphics file, but before any actual printing takes place.
See the VarioPRINT in Action or Get a Quote