In the bustling business landscape of Charlotte, NC, finding a reliable and efficient printing partner can be a game-changer for your marketing and promotional endeavors. Look no further than Boingo Graphics – the go-to printing company that's redefining excellence in the industry. With a proven track record, comprehensive services, and unwavering community support, Boingo Graphics stands out as the best printing company out of all the printing companies in North Carolina.
Delivering Excellence Every Time:
Charlotte printing has never seen such excellent results! At Boingo Graphics, our commitment to delivering unparalleled quality is the cornerstone of our success. We take pride in our exceptional performance, boasting an impressive track record of over 99% on-time and accurate project deliveries. When you choose Boingo Graphics, you're choosing a partner that understands the value of your time and the importance of precision.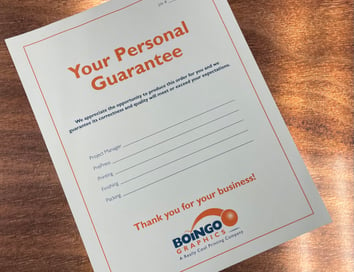 Dedicated Account Managers:
We believe in building lasting relationships with our clients. That's why, with every project, an experienced Account Manager is assigned to provide personalized attention and ensure a seamless customer experience. From initial consultation to final delivery, your Account Manager will be your reliable point of contact, ensuring your vision is understood and executed flawlessly.
Versatility in Services:
Out of all the printers in Charlotte NC, Boingo Graphics isn't just a printing company – we're your one-stop solution for all things creative Our comprehensive services encompass commercial print, promotional products, and large format printing. Our adept creative services team is ready to turn your ideas into captivating designs, while our website administration team ensures your online presence mirrors your brand's excellence.
Innovative Technology:
Setting us apart, Boingo Graphics is proud to be the only printing company in Charlotte equipped with the cutting-edge Canon iX3200 Sheetfed inkjet press. This state-of-the-art technology empowers us to achieve unparalleled printing quality while optimizing efficiency. With the Canon iX3200, we're able to do more with less – a testament to our commitment to innovation.
Boingo Cares: Making a Difference:
At Boingo Graphics, our dedication to Charlotte goes beyond business. We're deeply invested in the community we serve. Through our Boingo Cares program, we proudly support over 100 local nonprofits, making a positive impact on the lives of those who call Charlotte home. When you choose Boingo Graphics, you're supporting a company that's committed to giving back.
Conclusion: Your Printing Partner of Choice:
In the dynamic world of printing, Boingo Graphics emerges as the ultimate choice for businesses and individuals in Charlotte, NC. With an unmatched track record, personalized service, a spectrum of creative offerings, cutting-edge technology, and a community-centered approach, we proudly wear the crown of the best printing company in Charlotte. Trust us with your vision, and together, we'll turn it into reality.

When you're ready to elevate your printing projects, remember that Boingo Graphics is more than a company – we're your partners in success.

Contact us today to experience the Boingo Graphics difference. Your satisfaction is our masterpiece.