Welcome to Boingo Graphics, where we take printing to a whole new level of awesomeness! We may be a bunch of print nerds, but we know how to have fun while delivering top-notch services to our clients. And today, we're playing a game of 2 truths and a lie. Can you guess which statement is the fib? Let's dive in and find out!
Statement #1: We have a rock star team of 12 talented individuals in our marketing services department.
At Boingo Graphics, These folks are the wizards behind the curtain, making sure your projects come to life with pizzazz. From project managers who keep everything running smoothly to graphic designers who create eye-catching visuals, copywriters who craft compelling content, and a website admin team that makes sure your online presence shines - we've got it all covered!
And speaking of services, we do it all. Need a brochure designed? We'll make it pop! Need a blog written? We'll weave words like a boss! Worried about maintaining your brand standards? We've got your back! We'll help you keep your brand consistent, whether it's through copywriting, editing, proofing, content strategy, or project management. Our team is like a marketing Swiss Army knife, ready to tackle any challenge with creativity and gusto.
Statement #2: We have a big orange dot on top of our building that can be seen with Google Maps.
If you step into our office, you'll notice one thing right away - we have a thing for the color orange. It's not just a color, it's a way of life at Boingo Graphics. We're obsessed with orange, and we're not afraid to show it!
Our office is a veritable orange wonderland. We've got orange walls that radiate positivity, orange floors that make you feel like you're walking on sunshine, and even orange dots on our windows that make us feel like we're in a real-life Pac-Man game. But that's not all!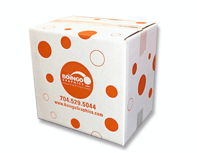 And it doesn't stop there. We've gone orange-crazy with our famous Boingo boxes too. Those trusty containers that carry our clients' precious marketing materials are adorned with cheerful orange circles that make them stand out in a crowd. And our pens? Oh, they're not just regular pens. They're orange pens with orange ink! We're all about the little details that make life brighter, and orange is our color of choice.
We've taken our love for orange to new heights by proudly displaying a giant orange dot on the roof of our building that can be seen on Google Maps. Yep, you read that right! Go ahead and check it out - our address is 656 Michael Wylie Drive, Charlotte NC 28217. We're all about spreading the orange love and making our mark on the digital world!
Statement #3: Boingo Graphics manages over 100 E-commerce websites for our clients.
Now, you might be thinking, "Wow, Boingo Graphics is really doing it all with commercial printing, marketing services and their love for the color orange!" But here's the twist - we offer e-commerce services as well!
Okay, let's get serious for a moment. We have a powerful tool up our sleeves - TotalVue. It's our cutting-edge platform that helps our clients manage their marketing assets and streamline their processes like never before.
With TotalVue, we have created over 100 client branded marketing portals, where they can easily place orders and manage their marketing materials such as brochures, promotional products and trade show assets. From digital asset management to inventory fulfillment, trade show asset tracking, and retail signage management - TotalVue does it all. We're all about making our clients' lives easier and more efficient, and TotalVue is the superhero that saves the day!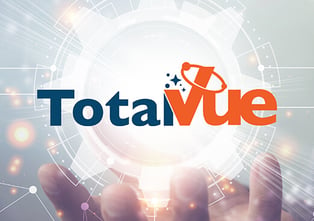 But that's not all. TotalVue also helps our clients maintain brand consistency across all their marketing materials. We know how important it is to keep your brand on point, and TotalVue makes it a breeze. With customizable templates, brand guidelines, and a user-friendly interface, our clients can ensure that their marketing materials are always on-brand and up to date. It's like having a marketing superhero on your side!
TotalVue has truly revolutionized how our clients manage their marketing assets, and we're proud to offer such a game-changing platform. It's one of the many ways we go above and beyond to provide exceptional service to our clients and make their lives easier.
Drum Roll Please.....
Now, for the moment of truth - or rather, the moment of deception. The lie in our game of two truths and a lie is that we have an orange dot on our roof visible on Google Maps. While we do love the color orange and it's evident in our office décor, we haven't gone so far as to add an orange dot on our roof. (Yet 😀) But hey, we can't blame you for imagining an orange-tastic rooftop view on Google Maps!
We hope this blog post brought a smile to your face and gave you a peek into the fun and creative world of Boingo Graphics. We're not your average commercial printing company, and we're proud of it! If you're looking for a team of experts who take their work seriously but never lose sight of having fun, look no further. Boingo Graphics is here to bring your vision to life with a dash of humor and a whole lot of creativity.
Ready to join the orange-tastic fun? Get in touch with us today and let's make some magic together. Until then, keep rocking that orange vibe and remember, life is always brighter when you're surrounded by the color of sunshine! Orange you glad you found Boingo Graphics? We sure are!