Trade shows are a popular way to market your product, service or business. If done correctly, they create lasting impressions, generate leads and provide cost-effective advertising. In fact, according to this survey, "77% of executive decision makers found at least one new supplier at the last show they attended." Your company can take advantage of this marketing tool to increase leads but only if you understand what makes a trade show booth successful. Learn how to drive traffic to your next trade show booth before and during the event and how to promote your company even after everyone has gone home.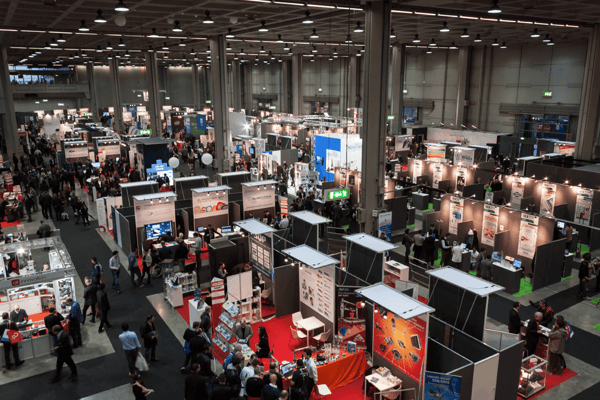 Before the Event
Start early. While the event is where you'll meet people and generate leads, you first need to attract an audience. According to one article, approximately 70% of trade show attendees decide which booths they will visit before they even reach the venue. This means your pre-event outreach efforts are just as important as the actual event.
Luckily, most event coordinators will provide an attendee list to participants. Use this list to send out some pre-event mailers to any current clients of yours thanking them for being loyal and promoting your involvement at the event. And don't forget to use social media or email blasts to attract prospective clients. Offer giveaways and ask questions to entice everyone to engage with your booth and brand.
Just remember not to randomly spam attendees. Do some research to find out what marketing efforts will speak to different attendees. Segment your list and send tailored messages to each group based on what you learn. The more interested they are, the more likely they'll visit your booth.
During the Event
Make sure your booth stands out. Not everyone will see your pre-event marketing efforts. So you need to ensure that your booth attracts attention from across the room. You can do so by using lots of bright colors, attractive graphics and signage, and by designing a booth that is unique, yet on brand. It's recommended that you start planning your exhibit booth at least six months prior to the trade show, allowing ample time for constructing your booth, printing materials and sorting out other details such as whether you'll provide food or have music at your booth.
Have the right stuff. You want to come prepared with large displays, interactive elements and branded promotional and educational materials. Use your signs and materials to prove your expertise in an attractive way, both at a distance and up close. Remember, if your booth isn't appealing, people won't enter it. Set up in a good location, display good signage and offer things attendees want or need such as food, chairs or charging stations. Attendees should seek you out somehow. Whether it be through meeting their needs or by being the expert they rely on, entice prospective clients to be a part of your booth.
What makes for good signage?
You want people to know who you are when they look at your marketing material. Your signage should qualify attendees and inform them of what you offer. If your booth and signage don't catch the attention of attendees and represent what you sell, people won't know to stop at your booth. Your sign needs to say more than just your company name. It should also explain what your company sells and its key benefits. The best way to accomplish this is to take a moment to come up with a good tagline.
This tagline should be placed directly underneath your logo and should clarify what your company does. For example, say Heart2Home is a company that makes custom wooden signs for home decor. Someone who isn't familiar with them could easily mistake it as a dating company. That's where taglines come into play. A tagline relating the company to artwork quickly and easily clarifies that this company is not involved with the dating industry.
Don't forget your branding. While you want to have brightly colored signs and an interesting booth that stands out, you also need to stay on brand. From clothes to banners to face-to-face interactions, make sure everything you do aligns with your company brand. The goal is to raise brand awareness for your company and hopefully leave with a few leads. To do so, you'll need to build trust and rapport with prospective clients. The best way to do that is with consistent branding.
Alright, they're interested. Now what? According to SpinGo, 92% of trade show attendees come to see and learn about new products and services. Have product demos or influencers ready to showcase your product. If you need to engage others while a demo is going on, provide worthwhile resources, entertainment or maybe a quick game. No matter what you choose, make sure it will keep attendees occupied while providing you with an opportunity to collect valuable customer information. For example, offer a quick fishbowl raffle. Collect information from those who wish to participate, select one at random and gift them some free swag.
Speaking of free swag. We all know free stuff always wins regardless of if attendees stop at your booth or not. For those who just want to grab and go, have business cards or brochures on display somewhere they can easily reach. That way they can still have your information, even if they don't want to stay and chat. As for swag, you'll need to be a bit more careful. You want to ensure that your swag ends up in their suitcase instead of in the trash. Choose small and practical items, like pens or coasters, that attendees can bring to their office and use. Food and drinks are another easy freebie that attendees will love. Just make sure you choose the right kind of refreshments.
After the Event
You're not done quite yet. Just because the event is over, doesn't mean that communication has to stop. Thanks to your fishbowl raffle, or other event of your choosing, you now have a list of people who were interested in your booth. Follow up with them via email, phone or direct mail to see how you can be of service. Another idea is to collect quotes and summaries of event presentations that you can later type up and distribute as a post-event wrap-up mailer. Attendees will appreciate the information regarding things they might have missed, and you'll have an additional opportunity to build brand awareness. No matter what you choose, always follow up.
Come See What Boingo Has to Offer
If you're planning on showcasing your product at a trade show event, make sure you have the right signage, graphics and materials. Boingo Graphics has experience with helping companies strut their stuff at trade show events. We work with you to figure out the best strategy for your company and can provide you with consistency across all your marketing materials. From banner stands to pre- and post-event mailings, we know how to help your company stand out from everyone else.
Contact us and see what we can do for you today.
Sources:
https://www.spingo.com/blog/post/20-powerful-stats-on-the-value-of-trade-shows-and-expos
https://smallbiztrends.com/2014/03/drive-traffic-to-your-tradeshow-booth.html
https://www.eventmanagerblog.com/drive-more-attendees-to-exhibition-booths
https://martech.zone/how-to-drive-traffic-to-your-trade-show-booth/