As with any makeover in any industry, the advent of the internet and the new avenues for marketing that it created turned everyone's attention to all the new tools. Digital ad campaigns and email lists became the new buzzwords, and along the way we lost sight of the old tried and true direct mail campaign. Out with the old, in with the new.
Direct mail never went away, however, and now it seems poised to make a comeback. The novelty of email campaigns has worn off because companies are discovering just how easy it is to ignore them. Email filters can send them directly to the spam box, and bored customers with an increasingly large amount of email offers in their inbox can send them right to the trash without even bothering to read the title, let alone opening the email itself.
In contrast, because any good makeover provides a contrast, direct mail produces a tangible product that people can hold in their hands. Real, physical ads grab the attention better than digital flashes, and are much better at holding it. They're more personal, seem more special than a faceless bot auto-sending emails to a list of millions.
But at what cost, you may be wondering. It turns out that the ROI for direct mail is higher than that of any other type of ad campaign, and if you manage to make some smart decisions that decrease your business's costs, your ROI can climb even higher. With a modern makeover, this classic form of advertising can still make a big difference for your company's bottom line.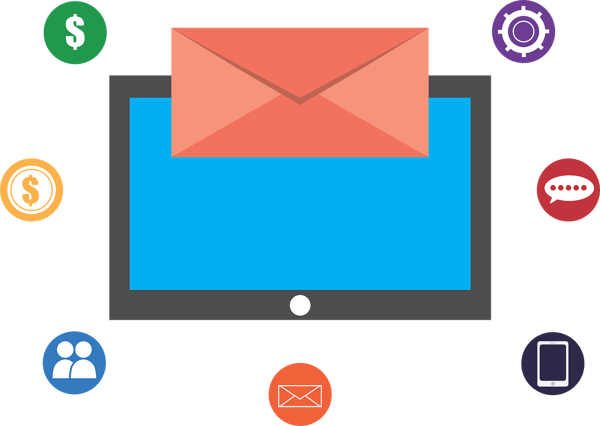 Direct Mail Gets Results
Response rates for most forms of advertising are small -- tiny, even. Online ads garner a 0.2% response rate, while social media platforms generate 0.4%. Email campaigns and paid searches are both at 0.6%. Still, your business probably spends most of its marketing dollars digitally.
The response rate for direct mail, on the other hand, has hovered around 1% for decades - and that was with 20th-century methods. Today's technology has made huge strides towards improving this response rate even though it was already the best in the business. For example, integrated tech can help you get rid of dead mailing addresses that suck up time and postage for little return; innovations like this have increased response rate by over 500%.
We'll do the math for you; nowadays, that formerly industry-leading response rate of 1% has grown to a still industry-leading response rate of 5.1%. There's just no doubt about it: direct mail is king when it comes to engaging potential customers. Think of it this way; you can choose a better than 1 in 20 response rate with direct mail, or a 1 in 500 response rate from online ads. The choice is clear.

What Will This Cost Me?
It's true that a direct mail campaign can be a bit more expensive than a digital campaign, but with its increased levels of engagement, it still ends up giving you an excellent return on your investment. According to a study by DMA, the ROI for direct mail is 29%. Social media was only slightly better at 30%, while paid search and online display lagged behind at 24% and 16% respectively.
While email had the highest return of all, at 124%, you have to remember that this is a relative number. Since an email campaign is so cheap, the absolute return on your email campaign is still going to be small, even if the relative return is large. When you add the fact that for every $167 spent on direct mail, a company can sell about $2,095 worth of product, the value of direct mail suddenly becomes much clearer. Imagine the returns if you choose to couple your email campaign with direct mail, or provide a personal URL in your direct mail campaign.
Why Does It Work?
We've mentioned that direct mail campaigns tend to work because they're somehow more personal, yet less intrusive. In fact, 73% of people surveyed prefer direct mail to other kinds of communication, while 40% said they would try new products introduced to them by direct mail. People are practically requesting that you send them mail, so why not listen?
Squeeze a Little More Out
Direct mail's ROI is impressive, but it can always get better if you make the commitment to making it better. Look at ways to reduce the cost of your campaign, such as designing your campaign in-house. Just keep in mind that you'll be exchanging labor hours for cost savings, and that going out of house may show a cost savings in the long run. Or, use modern tools like those offered by BoingoLink, and bump up the size of your campaign to get more bang for your buck.
Alternatively, nudge up the response rate by looking at the unique needs of your client base. How can you speak to them in a way that entices them to take action rather than just reading your ad? Consider including coupons, personal URLs, loyalty programs…the list is as endless as your creativity. Most importantly, don't be afraid to tinker with your campaign. The first time you send it out may not be your best ROI, but make changes to improve your reach and try again. Bit by bit, your ROI will climb.
BoingoLink Can Help
If you've decided you're ready for a direct mail campaign, BoingoLink has the tools you need to modernize it. We can complement each step in your marketing and sales strategy. With our service you can:
Design and plan your multi-touch, multi-channel, integrated campaigns.
Configure your direct mail campaign with full personalization, QR codes and personalized URLs. All this comes in a file ready for export.
Receive a closed-loop report at the end of the campaign.
Integrate with other systems, such as HubSpot, SalesForce, Zapier, ActiveCampaign, InfusionSoft, Marketo, Drip and Zoho.
Direct mail has received an extreme makeover; it's no longer a dinosaur, but a fully modernized and potent tool for companies like yours that need effective advertising. People still appreciate something they can hold in their hands. Give your company the leg up it needs with a direct mail campaign using BoingoLink's modern tools to make it as efficient as possible.