Save money and time by ordering one of our standard presentation folders.
With three versatile options of presentation folders available, you'll be prepared for any pitch, proposal or conference. Our customizable standard pocket folder comes with two horizontal pockets with business card slots in each pocket, perfect for organizing your materials. Need to get a pitch together for a client? Take a look at our proposal folders that come with one horizontal pocket and business card slot. Looking for something for your team? Our digital on demand folders come with two vertical pockets and one business card slot and are cost effective for smaller groups.
Choose from three standard pocket folder options:

The 9
x

11.25 inch Digital On-Demand Folder, perfect for smaller amounts of material offers:
The perfect solution for lower quantities
9 x 11.25
2 vertical, 4.5-inch pockets
1 business card slot
No die fee
Choice of paper weights

Matte or gloss coated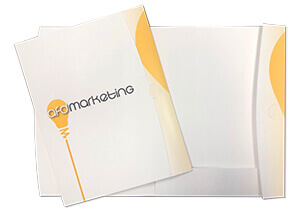 The slightly larger, 9
x

11.50 inch Proposal Folder offers:
9 x 11.5
1 horizontal, 2-inch pocket
1 business card slot
No die fee
Choice of paper weights
Matte or gloss coated

Finally, the largest option, the 9
x

12 inch Standard Pocket Folder offers:
9 x 12
2 horizontal, 4-inch pockets
2 business card slots
No die fee
Choice of paper weights
Matte or gloss coated
Although all options are workable for any situation, the folders are specially designed for optimal use for specific purposes. The Proposal Folder, for example, is ideal for pitching an idea or product to a client. Conversely, the Standard Pocket Folder, equipped with two pockets and two business cards slot, is ideal for a busy professional to organize their own material when attending a conference. Finally, the Digital On-Demand Folder is cost-effective on a larger scale, and can be a perfect product to share important papers and information with your team.
Not seeing exactly what you're looking for? All three of our wonderful folder options are fully customizable. Because folders are such a wonderful way to present your business or idea to clients, Boingo Graphics offers 100% customizable: business proposals; conference events; presentations; sales kits; and press kits. The Boingo Graphics team will work with you to devise the best strategy for your business needs and our customers always have complete control over the final product. Custom folders can be made in any shape, size or color. Our team will help the client decide which unique shape or color can help your business or brand stand out among the competition.
Our Custom Presentation Folders are ideal for client and external use, but just as helpful for internal company use. Running an Human Resources training with lots of different paperwork and guidelines to give your employees? Easy! Order a bunch of our Digital On-Demand Folders. The two vertical pockets are perfect for storing important papers and the business card slot is the perfect place to add in the contact information for your Human Resources staff.
Whether you are looking for one of our standard folders, or looking to customize, make your life easier and your product or business shine with a snazzy, professional folder offered by Boingo Graphics. Rather than carrying around a clunky suitcase and shuffling around hundreds of papers, arrive at your next pitch with a sleek, organized folder chock full of important information to present to your prospective client. Making a good first impression and being the professional you want to be starts here.
Want to personalize your presentation folder? Check out our Custom Pocket Folders!
Fill out the form below to learn more and we will be in touch!